Party Bus Destination Ideas
A party bus for you and your friends sounds like a blast, doesn't it? But if it isn't your 40th birthday or your bachelor party, you might be wondering if there is a good reason to get your group together on a luxury party bus.
Wonder no longer. We've got a guide for you that will help you find the best places to head out to so that you and your friends can take full advantage of everything our party buses have to offer!
Whether heading into New York for a show or a night hitting the hottest clubs, a party bus is the only way to go with a group. Imagine being able to relax during the two-hour drive from Philly to the Big Apple with twenty to forty of your closest friends.
AC. The boardwalk. The gaming. The concerts. The events. There are so many reasons to head to Atlantic City with friends. Well, except for trying to coordinate rides. And the hour drive. Instead of stressing about a trip to AC, make it an event! Head to see the fights with the guys or gather your friends and family for dinner and a concert.
Casinos for the Win
Maybe you're thinking of heading to Valley Forge Casino, or over to Parx. Perhaps SugarHouse is on the list, or Harrah's. Instead of having everyone meet there, make it a win-win and hop on a party bus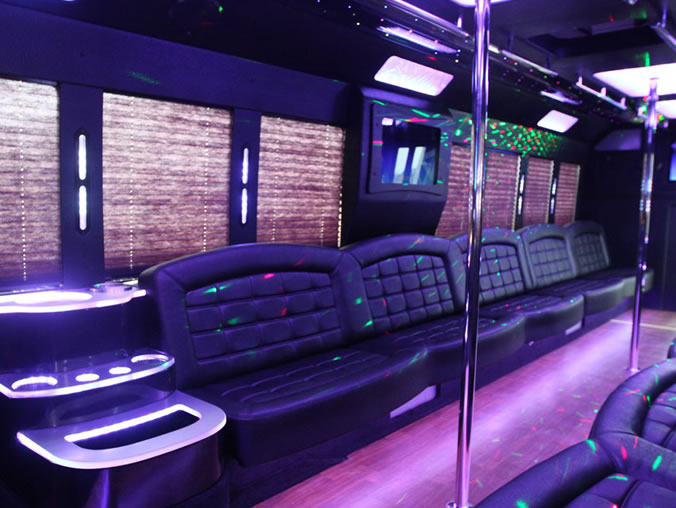 What does it Cost to Rent a Party Bus?
Planning a night out with your friends? Or a big birthday bash? Or just spend some great time at a party? The best solution for these needs would be a party bus, and here is why! A popular and safe way to keep the celebration going on route to your location is renting a party bus. These party buses can be very luxurious and a great way to make your night perfect. Your entire party can travel with you, no one has to be the designated driver and the fun doesn't have to stop on route. In addition, certain party buses are equipped with a dance pole. But there are a few things to consider when determining the overall price of chartering a party
How Party Bus Prices are Calculated
The biggest price indicator when determining the party bus rental is time. Most rental companies offer a fixed price for renting a party bus for 5 hours. During weekends there is a 4-hour minimum. From there the price is by the hour. If you only need an hour, talk to us and let us see what we can do for you.
Most companies offer party bus rental including vehicle cleaning and preparation. This can help you tailor the experience to your party including decorations, flowers e.g. that you want. However, there may be an extra cost depending on what you bring on board. Some party bus companies will include a stocked alcoholic bar in this price and gratuity, but be sure to ask. For Bookbuses.com rental it depends on your rental location and bus type. A complimentary bottle of champagne, ice, or bottled water is usually included in party bus service.s. Let's get more specific on the price.
How much is it to rent a party bus?
How much is a party bus? Generally, renting a party bus costs between $695 – $1,050 for a four hour time block with each additional hour costing between $100 – $300, but prices can vary depending on the city or when you are renting
How much is a party bus for 5 hours?
The 5-hour party bus rental price ranges from $695-1,250 for a weekend night. The price may be affected by day of the week, season (summer is more expensive than winter) and holiday period. We are also getting to the size of your party bus. In general smaller party buses for under 15 people are 30% cheaper than a standard party bus holding 30 passengers. Full size 50-passenger party buses are more expensive and only available in some locations. But a lot of fun!
Plan Your Very Own Special Event
Bachelor/Stag Parties
You're only days away from tying the knot, and you want to cut loose one more time with your buddies by throwing a bachelor party. Enjoy a fantastic ride on one of our Dream Shuttles. Don't worry about drinking and driving – enjoy yourself & arrive home safe.
Weddings
Arrive in style at your wedding, with one of our luxurious Dream Shuttles. We strive to make the Bride and Groom feel like a King and Queen on that special day. With a capacity of up to 25 passengers, the entire bridal party can celebrate and arrive at the reception in style in one vehicle.
Bachelorette/Stagette/Doe Parties
You're on the verge of that special wedding day, and you'll want to let your hair down with your friends by throwing a bachelorette party. Enjoy a fantastic ride on Dream Shuttle. No concerns about drinking and driving – everyone will arrive home safe and sound
Jack and Jill/Stag and Doe Parties
Ready to celebrate your upcoming wedding with a combined fundraiser party? Enjoy a fantastic ride on a Dream Shuttle. No concerns about drinking and driving – enjoy yourself and know that everyone will arrive home safe and sound
Sweet 15/16 Parties/Quinceanera
So your little girl is all grown up. Where did the years go? Show her how proud you are of her by booking an Xtreme PartyBus for her Sweet 16/Quinceanera party. She and up to 25 of her friends can freak out with all the cool luxury features found on our Dream Shuttles.
PARTY BUS IDEAS FOR A FANTASTIC NIGHT-OUT
When it comes to having an amazing night, you can never go wrong with a party bus. That's why today, we'll show you some fantastic party bus ideas that'll make your night unforgettable! Picture this: you rented your party bus for a special event. You're just waiting for your ride to arrive. And although you may count on a party bus that has the best of amenities, it's always better to be prepared for everything
Make Your Night Unforgettable With These Awesome Party Bus Ideas
When you hire a party bus, it's imperative to have everything planned out. That way, you can make sure that everyone will have fun all night long.
These are some popular party bus ideas that'll assure you a fantastic night out:
Giving your party a theme.
Having a karaoke on board.
Hosting a fantastic dance-off.
Playing charades.
Having trivia, card, and board games.
Give Your Party A Theme!
Every party needs a theme, there's no denying it. Whether it's for your bachelor and bachelorette parties, prom night, or just for an awesome night out, it's vital to have a party bus theme if you want to have a good time!
Giving a theme to your party will keep your guests entertained even before arriving at the party. Not only that, but you'll prevent your guests from leaving the party because they got bored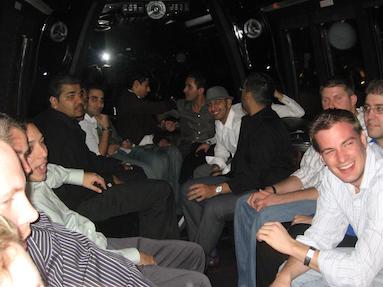 Awesome Things You Need to Do in a Cool Limousine
limousine can be a lot of fun, especially if you have a group of your family or friends to come along for the ride.
Getting one for a few hours, or even an entire day, is surprisingly affordable. And if you split the cost among everyone riding, you might find that there is no cheaper way to travel in style.
Go sightseeing
Spending some time sightseeing in a limo can be extremely fun. Some people decide to use a tour bus, others walk. While others will just spend a lot of their time in a taxi. Having someone who knows where they are going is so much better than having to rely on a GPS or map in a rented vehicle.
Enjoy the nightlife
Showing up in a limo to a local hotspot will get you plenty of attention. Sometimes, limo riders get bumped to the front of the line to get into places like:
Nightclubs
Bars
Concerts
Ride in style to the airport
A cool limousine can make a very long ride to the airport fun. You don't have to worry about parking your car, or the charges that it would bring.